Naturally reverse tooth decay in just seconds. Impossible? Not with Ozone!
This breakthrough technology will revolutionize dentistry forever and the Center for Cosmetic Denistry is the first dental office in the US to use it!
What is Ozone?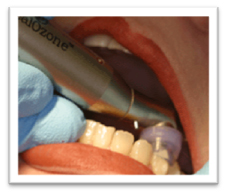 Ozone (O3) is a gas that kills bacteria, viruses and fungi within seconds. It has been used for many years as a common water and air purifier.
How can it help my teeth?
We use a small laser, the Diagnodent, to look inside the surface of your teeth. It detects areas of bateria that cause decay and gives us an idea of how much decay is present. A special suction cup handpiece (see picture to right) is used to focus Ozone onto the decayed area. Once these bacterias have been eliminated, a special remineralization fluid is placed on the cleaned area which begins the healing treatment.
Is there any pain?
No! The entire process from the laser readings, application of ozone on your tooth to the mineral wash are all painless.
How do I know if it has worked?
At a future visit we will check the Diagnodent laser readings. Studies conducted at Belfast University found that 10 seconds of Ozone killed 99% of bacteria, viruses and fungi that were present in the tooth (including the bacteria inside a tooth that creates a cavity). In one study, 99% of cavities were halted. Of the control group in the same study, where teeth were left untreated, 80% of cavities became worse.
How is Ozone environmentally friendly and help purify the air?
When ozone molecules split into single oxygen atoms, they can react when coming in contact with a contaminant. Ozone is so reactive that it never fails to initiate this reactive activity. The reduction of air borne infections is scientifically proven.(Jakab GJ, Hmieleski RR , 1988, Wolcott JA, et al, 1982).

This reaction is all done through the single atom oxidizing the contaminants. As this reaction takes place, it destroys all the contaminants it comes in contact with by changing its physical properties, resulting in contaminant no longer being toxic or able to reproduce. The additional ozone changes back to pure oxygen, thus making it environmentally friendly.

Need more information?